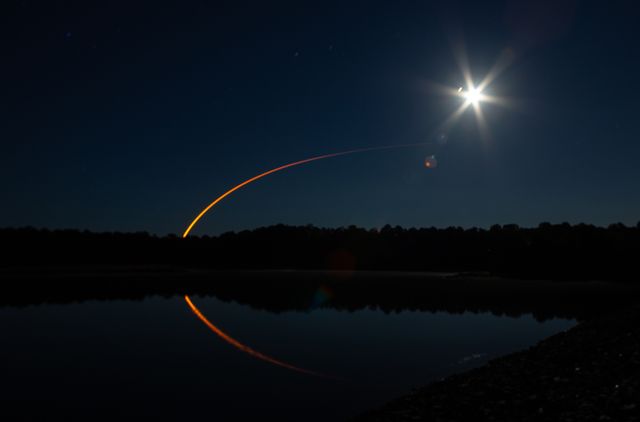 Classification:
Off-Chain (IPFS)
Rights
Extended Editorial
Rarity: 85.7%
Location
Wallops Island, Virginia
Rarity: 85.7%
Subject
Rocket Launch
Rarity: 85.7%
Genre
Rocket Photography
Rarity: 85.7%
Artist
Jason Betzner
Rarity: 85.7%
Launch of Antares NG-14 from Wallops Island, Virginia. This was the first night launch I photographed. I had gone up to Wallops Island the day of the original launch date and waited for 6 hours for the rocket to launch. As night came along, the excitement was palpable in the crowd. The weather was perfect, the range was green, and then 30 seconds to lift off we get the tragic news; a scrub. There was an issue with a ground sensor. Any launch photographer knows this can happen, but it's still disappointing. The new launch date was scheduled for the next day, but I wasn't able to drive back to Wallops. So I decided to find a unique location from my home 80 miles away. The reservoir would make a nice reflection of the launch and the full moon would add extra interest. The long exposure worked out perfectly! I got to see the launch, just not in the way I expected.
The NFT page displays details such as properties and trading history for a specific token ID in an NFT contract. Learn more about this page in our Knowledge Base.